I have been stressing out over all kinds of deadlines lately. Whenever that happens, I tend to seek a temporary hideaway in my kitchen to give my mind some "zen". The idea of "zen" in the kitchen always links me to Japanese ingredients thanks to their subtlety and delicacy in terms of both color and flavor. When I looked into my cupboard, there was matcha powder, bamboo charcoal powder, and salted sakura flowers. I ended up with these sakura flower cookies, mainly because I felt like my kitchen hadn't been filled with the delicious buttery aroma from butter cookies for a while.
Salted sakura (peach blossom) flowers and other sakura products (such as sakura leaf powder or sakura syrup) are some of my most cherished ingredients. It's not just due to the fact that they can instantly dress up any desserts, but also because of their highly distinctive and pleasant flavor. The kind of flavor that is very hard to put into literal description, but will persistently linger to your memory once you have tasted it.
These cookies are quite basic and simple to make. This dough stays in shape very well in the oven, there's no need to refrigerate it for too long before baking. I simply love when these cookies are being baked in the oven. The buttery smell intertwined with the unique aroma of sakura leaf becomes something extremely mesmerizing to me. And don't even get me started on the products! Remember the saying "We are what we eat"? I bet if you guys eat these beautiful sakura cookies every day, you will certainly be gaining a bit of charm and prettiness every day as well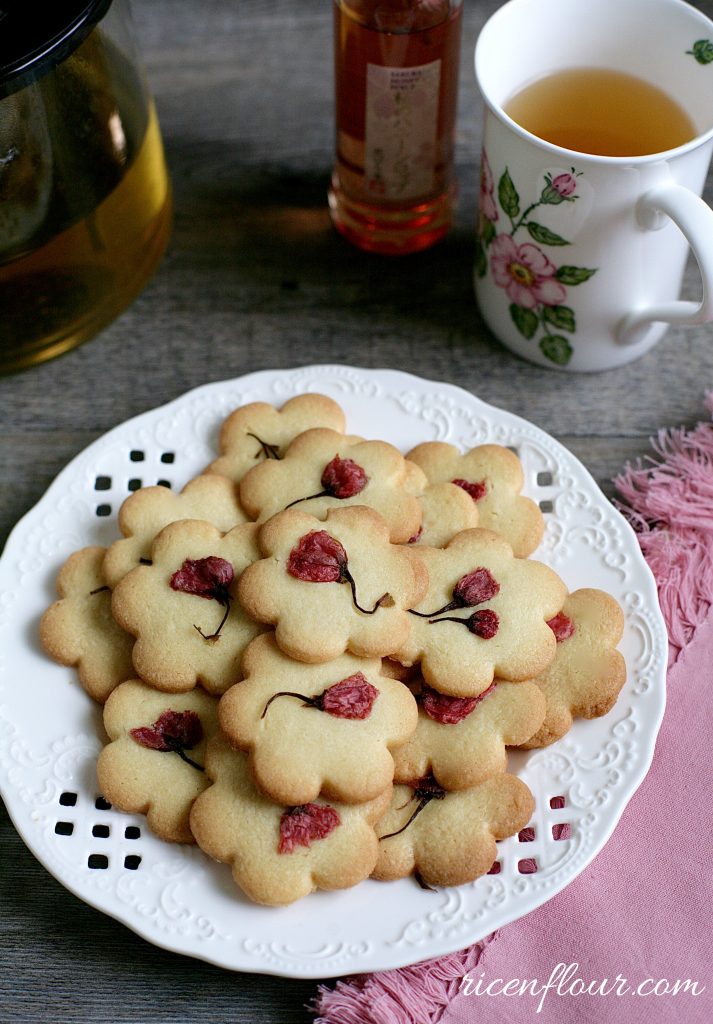 SAKURA FLOWER COOKIES
Recipe adapted from Daily delicious
SERVINGS: 16 – 20 cookies depending on thickness
TOOLS:
Baking tray and silicone baking mat or parchment paper
DO NOT use the black trays that come with the oven. They come in direct contact with the oven walls and will burn your cookies' feet very quickly.
Cookie cutter, about 5 – 6 cm in diameter
INGREDIENTS
20 salted sakura flowers
90 gram (6.5 tbsp unsalted butter) – softened at room temperature
50 gram (1/3 cup + 1 tbsp) powdered/icing sugar
2 ml (1/4 tsp) vanilla extract (optional)
1 medium sized egg yolk (18 – 20 gram)
125 gram (1 cup) all purpose flour
1 gram (1/8 tsp) sakura leaf powder (optional)
*Note about ingredients:
– Sakura leaf powder is optional, but I like to use it to enhance the sakura fragrance. The important question is, where to buy them?
If you're in Europe, Japan or other Asian countries, you can order from this website Nihon-Ichiban. This is where I got mine from, the delivery only took 7 days and the quality is nothing short of satisfactory.
If you're in America, you can order from Amazon, however the salted flowers are quite pricey. The leaf powder, however, is very affordable. You can get them from here: sakura leaf powder.
(The Nihon-Ichiban shop that I suggested above does offer worldwide shipping though, and if you add the delivery fee, it would probably be somewhat the same as buying from Amazon).
– The quality of your butter determines the quality of your cookies. I recommend unsalted butter for its superior smell and taste (in my opinion), but if you prefer the taste of margarine, then you can use it too.
– If you don't have powdered/icing sugar then granulated sugar is acceptable, but you should use a food processor to grind it first, otherwise the sugar may not be able to dissolve completely.
METHOD
A detailed recipe with all the specific notes is available on my YouTube Channel (Savoury Days Kitchen) in both English and Vietnamese. You guys can check it out at this link or the video right below.
1. Soaked the salted sakura flowers in water for at least 30 minutes to diminish their saltiness.
2. Transfer butter to a bowl, beat at lowest speed for 30 – 45 seconds until smooth. Scrape the sides of the bowl.
3. Sift powdered sugar into the butter, beat until incorporated, no need to beat until fluffy. Scrape the sides of the bowl.
4. Add egg yolk and vanilla extract, beat at lowest speed until incorporated. Scrape the sides of the bowl.
5. Sift together flour and leaf powder (if you're using it). Sift ½ of the flour into the bowl, beat at lowest speed until incorporated. Sift the remaining flour, mix well. Gently mix and knead with your hand until all the ingredients are incorporated into a ball of dough.
6. Transfer the dough to a sheet of parchment paper, press your hands into the dough to flatten it. The dough may be a bit sticky here. Refrigerate for 15 – 20 minutes.
7. When the dough has hardened a little, roll it to approximately 5mm thickness. You can coat the rolling pin with some flour, or place another sheet of parchment paper on top of the dough before rolling to make it easier, like what I did in the video.
8. Cut the dough with the cookie cutter of your choice (or with a thin glass, or anything you see fit). After cutting, place the whole sheet of parchment paper in the refrigerator for 5 minutes, then take it out and remove the leftover dough. Place the cookies onto the baking tray (lined with a baking mat or parchment paper).
9. Continue to roll and cut the remaining dough. This recipe makes 16 – 20 cookies depending on the thickness.
10. Place the whole baking tray into the fridge for about 15 minutes. Set the oven at 200°C / 392°F (both top and bottom heat).
11. Remove sakura flowers from the water bowl. Gently squeeze them to drain off the water and place them onto paper towels to dry. Right before baking, take the cookies out of the fridge, place the flowers onto the cookies. Press lightly so the flowers stick to the cookies.
12. Lower the oven to 170°C / 338°F. Bake in the middle of the oven at 170°C for 16 – 18 minutes until the edges of the cookies turn golden brown. After 12 – 14 minutes you can rotate the baking tray so that the cookies are evenly baked.
13. Let cool on the baking tray. Store in sealed box for 1 week. These cookies are more soft and cakey than crunchy. If you prefer them hard and crunchy, you can bake them at 110°C / 230°F for another 5 minutes, the texture will be crunchier (but also more crumbly and breakable).
———————————–
Recipe by: Linh Trang
Written by: Holly Le
Related Post